I Hate To Say I Told You So, But...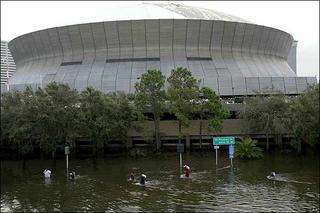 It didn't take long. Ultra-conservative Columbia Christians for Life sent out an email yesterday evening comparing satellite photographs of Hurricane Katrina with a 6-week unborn human child:

Says the e-mail:


The image of the hurricane...with its eye already ashore at 12:32 PM Monday, August 29 looks like a fetus (unborn human baby) facing to the left (west) in the womb, in the early weeks of gestation (approx. 6 weeks). Even the orange color of the image is reminiscent of a commonly used pro-life picture of early prenatal development...In this picture, and in another picture in today's on-line edition of USA Today, this hurricane looks like an unborn human child.

Louisiana has 10 child-murder-by-abortion centers - FIVE are in New Orleans
www.ldi.org ('Find an Abortion Clinic [sic]')

Baby-murder state # 1 - California (125 abortion centers) - land of earthquakes, forest fires, and mudslides
Baby-murder state # 2 - New York (78 abortion centers) - 9-11 Ground Zero
Baby-murder state # 3 - Florida (73 abortion centers) - Hurricanes Bonnie, Charley, Frances, Ivan, Jeanne in 2004; and now, Hurricane Katrina in 2005

God's message: REPENT AMERICA !
I'm not in the mood to deal with these fuckers. Check out Ms. Musings for the rest of the scoop and links to commentary.