Eye of the Storm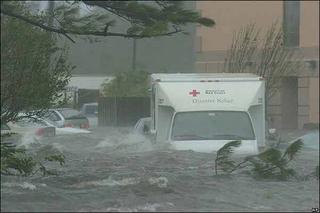 This is a song about the end of the world. It's a happy little number. - Larry Norman

I'm sure it will be only a matter of time before Jerry "Blow them away in the name of the Lord" Falwell or Pat "Who would Jesus assassinate?" Robertson or some other high-profile but ignorant Christian blames the destruction of New Orleans on Mardi Gras or gays or abortion or the United States' backslidden pagan ways. I'm sure the rapture index is on orange alert and that Gabriel's mouth is on the trumpet. I'm sure Tim LaHaye and Jerry Jenkins can squeeze a dozen poorly written novels out of this. In the meantime, we know people who live less than an hour from the shoreline. I hope they're OK.

And with that, I leave you with Rigorous Intuition's take on the damage:


Here we are, in another moment, where dystopic hyperbole has leached into wire stories with headlines such as "Experts Expect Katrina to Turn New Orleans Into Atlantis." I'm expecting the storm to weaken enough that the worst-case will not be realized. I'm hoping so for the poorest of New Orleans, who "chose" not to leave because they couldn't, and have been sitting up all night in the Superdome. But Katrina is already the 11th hurricane this season; that's eight more than have ever before been recorded at this time of year. The storms are increasing in frequency and ferocity, and will continue to do so as the Gulf Stream fails. All that heat has to go somewhere.

Climate Change is a challenge to our frames of reference. We've known storms before, but storms like these, this often? We've known extreme temperatures, but we've never seen the glaciers retreat and the pack ice melt at such a pace and scale. The old assurances of how bad it can get have been breached, and projected extremes are edging out of the narrow band of conditions conducive to global civilization and perhaps even complex life. And it's not the environment alone that goes begging for precedents. (And I don't think it's a coincidence that it's not.) Politically, economically, metaphysically even, we're all suddenly in over our heads without having moved an inch. And perhaps we should have moved, because the flood was forecast years ago. But like the people in the Superdome, we had nowhere else to go.